Teachers
Photo credit to Carl Kerridge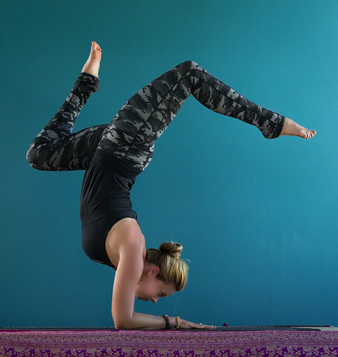 Nicole - owner, lead teacher, ERYT 200 & RYT500 YACEP

Nicole thought she was going to try a new workout method since the gym was not her favorite place to be, but to her surprise, yoga was so much more. ...Through her years of dance experience and day-to-day living, she realized she had touched on yoga many years prior without knowing it. When she moved and left everything behind including her yoga community, she yearned to go deeper. There wasn't a local studio at the time, so books, videos and being pregnant became her teachers, and her baby helped change the ways she approached nutrition, the mind and breath. After having her son, she hired a trainer to whip her back into shape. The weight was coming off, but she was physically and mentally drained and soon became diagnosed with Grave's disease. Her rigorous workouts had to be stopped, which led her back to yoga. She found a place to heal -- her mind stopped racing and so did her thyroid. After time on the mat, the tests came back negative for Grave's disease to which Nicole credits yoga and God. Yoga quickly became one of her passions and as her practice deepened, she was inspired to bring yoga to Lexington, SC. She continued her education by becoming a 200-hour Yoga Alliance certified teacher and shortly after, she opened the doors to Pink Lotus Yoga Center. She believes wholeheartedly in the theory of teaching to learn and recently completed her 500-hour yoga teacher training under Dawn Yager of Shanti Yoga. She also keeps things fresh through attending various workshops, and by bringing special guests to her studio such as Dawn Yager, Where Is My Guru's Jessica Durivage, Go W/ The Flow and more. Nicole believes in bringing a wide variety of yogic principles to Pink Lotus and sharing all of the spiritual, physical and mental benefits of yoga with Lexington. She thrives in providing a fun, welcoming atmosphere for new and seasoned yogis and yoginis of all levels and from all walks of life.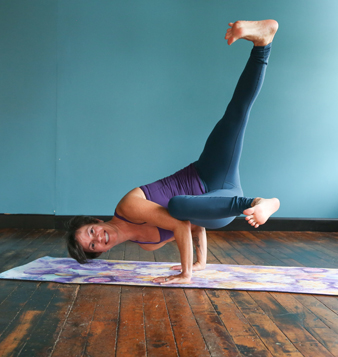 Kelly 500 RYT /
Baptiste Yoga


Kelly began teaching yoga in 1998 while studying massage therapy in Anchorage, Alaska. She has several YogaFit Certifications and 200 yoga teacher training with ...Gotta Yoga through Pink Lotus Yoga Center. She is also a certified Group Fitness instructor. Kelly and her daughter, Cassiel, trained with Baron Baptiste to become certified Baptiste Power Vinyasa instructors. ​Kelly is a fully certified ​Baptise instructor. Kelly has found mindful movement to be a powerful vehicle for grounding. She brings this to mind in every class she teaches. It is her intention to share that with her classes.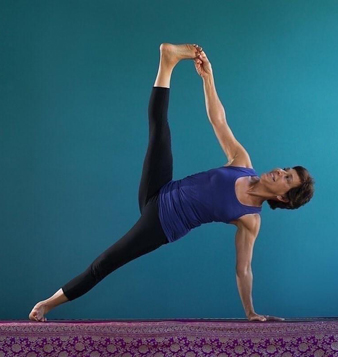 Denis Ann 200 RYT



Denis Ann has found Swarupa, which means, "loving what you do; sitting in your own essence," in her yoga practice and wanted to bring that love and joy to others. ...Denis Ann sees teaching yoga as an act of love, caring and giving back. She considers it a privilege to share her knowledge of yoga and the many healthy benefits that yoga produces in the body and mind. It is her intention that people journey through their own personal yogic path and find the joy of yoga on and off the mat. Denis Ann received her 200-hour yoga teacher training from Sakhi Yoga in Columbia, SC in 2013. She continues to deepen her study with her personal practice, workshops and reading a vast collection of books on yoga. She has been teaching yoga for 7 years and currently teaches at Pink Lotus Yoga Center since its inception in August 2011. Denis Ann honors the glory of all the yogis and yoginis who have share their love of yoga at Pink Lotus Yoga Center.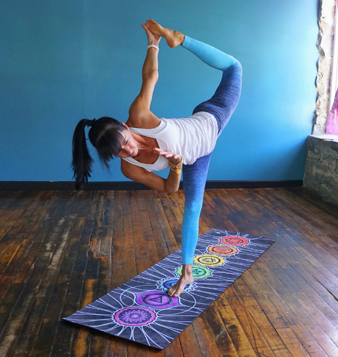 Kimi 200 RYT

Kimi took her first yoga class in 2005 while in graduate school in California and quickly discovered that from 8-9 PM on Tuesdays and Thursdays, her mind would enjoy ...the only escape from stress it could find for the next four years. She brought her love of yoga back to South Carolina upon graduation and felt that she truly found her yoga home when she stepped in the doors at Pink Lotus. Kimi had always been a runner, but started participating in triathlons in 2010 and found that yoga was an invaluable element of her cross-training regimen. Alas, her tenure as a triathlete only lasted a few years, but she maintains that yoga is an essential cross-training component for simply life itself, both physically and mentally. Furthermore, her day job as a dentist predisposes her to a myriad of neck, shoulder, and back ailments, but she knows that her regular yoga practice is what keeps her pain-free. Kimi finished her 200-hour yoga teacher training in May 2013. Her initial intention when signing up for the training was simply to learn more about yoga and to enhance her own practice, but soon realized that she loved teaching and sharing her love of yoga with others. She blended her love of yoga and athletics by completing Yoga for Athletes training in February 2014 at Enlighten Yoga in Charlotte, NC. While PLYC is most dear to Kimi's heart, she loves to travel and sleuths out a yoga studio or two in each town she visits to connect with yogis from all around, broaden her yoga horizons, and gain inspiration.
Christie RYT200

Christie started practicing yoga at Pink Lotus in the fall of 2015, seeking to improve her flexibility and balance. She found so much more than expected — both a ...holistic method to integrate body, mind, and spirit, as well as a loving, welcoming kula to support her journey. Finding herself in the fortunate position of being able to leave the legal profession at the end of 2019, she enrolled in yoga teacher training (YTT) at Pink Lotus in 2020. In addition to deepening her practice in innumerable ways, YTT provided much needed community and sanctuary during the worst of the COVID pandemic. When she is not on her mat practicing or teaching, Christie enjoys reading, gardening, paddle boarding, listening to music, and antiquing. Her husband of 30+ years is her usual partner in crime, frequently joined by their senior dachshund (the boss, of course) and occasionally by their grown son, daughter, and son-in-law.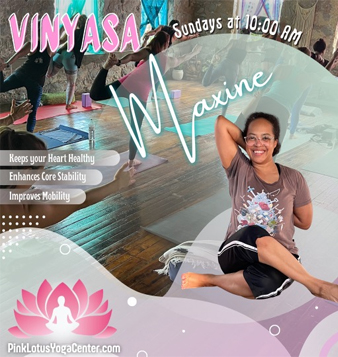 Maxine RYT200

Maxine is an active member at Pink Lotus, and completed her yoga teacher training there in 2020. She enjoys yoga because she can feel the benefits in her physical ...and emotional selves, and because it is useful in situations both on and off the mat. When not doing yoga or her day job of proofreading, Maxine often can be found knitting, baking or napping.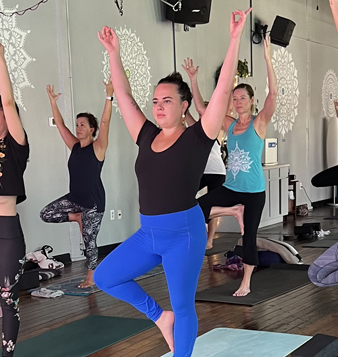 Cassie RYT200


As a child Cassiel danced, and did not grasp the beauty and benefits of yoga until age 13 when she started to attend yoga regularly. For Cassie, yoga is what ...helps her stay grounded even when there is a hurricane trying to uproot life! If she's stressed out, sad, or anxious Cassie can always find her feet again with yoga. Having a community where she is always welcomed, loved, and encouraged to make mistakes is priceless. Through the physical practice she was shown her possibility. Itt empowered her to reconnect with her body and mind. Yoga turned into a home away from home. She's was very fortunate to have grown up in the yoga community. Her mom, Kelly Branning, has taught exercise and yoga since the 80's, and Cassie grew up witnessing the physical proof of how yoga can transform your life. Cassie completed Yoga Teacher Training at Charleston Power Yoga in 2013. Since then she taken numerous trainings in the Baptiste style. Cassie currently lives in Greenville SC where she shares her yoga via Zoom- LIVE ONLINE Yin with us Thursday mornings @ 9:30am.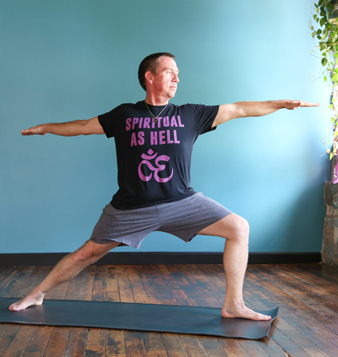 John 200 RYT/ Swing Yoga/ Leads Beginners
John and his wife Jane are both from Rock Hill, SC, where they started dating at age fifteen. They have three children, all grown, and all five are graduates of ...the University of South Carolina. John completed his 230-hour YTT in 2015 and swing training in 2017, both at Pink Lotus. He continues as a student, having begun his journey to his 500-hour certification with Holy Cow Yoga Center in Charleston. John is a Pisces, and this shines through in his giving, caring personality.
Julia - 200 RYT


On a whim back in 2014, Julia dropped into Pink Lotus to take a swing yoga class lead by studio owner Nicole Zimmer. It was great fun, so in short order she tried a mat class. ...That was all it took. From that point forward, Julia was in love with the teachers, the studio and the classes at Pink Lotus. She quickly developed a regular practice that continues to this day. In 2018 Julia decided to take the next step on her yoga journey and completed her 200 hour teacher training through Pink Lotus, and has completed additional training in Yin Yoga. Now Julia enjoys sharing her love of yoga with others, whether in a class as a student or leading a practice for others.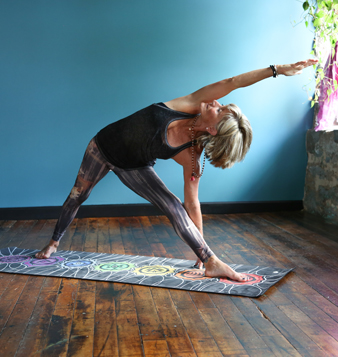 Alison RYT 500, E-RYT 200
Alison teaches many styles of yoga; vinyasa, yin, restorative, gentle and chair yoga. She was introduced to yoga in 1990, Kripalu yoga, a gentle form of yoga described as meditation ...in motion. After a weekend workshop called Life In Transformation at theKripalu Retreat Center, she discovered the impact that yoga practice has on relieving stress.

In 2007, She completed a 100-hour Immersion with Stacey Millner-Collins in Anusarayoga. This style of yoga focuses on the universal principles of alignment. She completed a 200-hour RYT certification in 2016 and 500-hour RYT certification in 2019.

Prior to practicing yoga, Alison suffered from sciatica to the extent that it would wake her in the middle of the night. None of the treatments helped. After a few months of doing anusara yoga, it was gone. Physical effects of her scoliosis were also alleviated. She attributes this to the alignment principles of Anusara yoga and an in depth study of anatomy, biomechanics and the energetic body with many well known teachers: Doug Keller, Jason Crandall, Noah Maze, Kristine Kaoverii-Weber, Amy Ipoliti, Desiree Rumbaugh, Christina Sell, Betsy Downing, Prof. Bill Mahony, Prof. Douglas Brooks and others.

Alison believes "Yoga is really a training ground for life, that outer yoga is preparation for the inner journey to a joyful and peaceful self.

"Yoga is not the image we often see in a magazine. Yoga is about strengthening the body and mind and transcending the constant turnings of thought that causes unnecessary suffering. It is a practice for life. If you have a body and breath then you can do yoga.

Alison has extensive training in "yoga for a healthy spine," best practices for avoiding or practicing with injuries, "yoga for wellness," yoga for "trauma, anxiety, depression, PTSD," "subtle body yoga," and "yoga for cancer and chronic illness." In addition to group, classes in yoga for wellness at the studio, Alison is available by appointment through the studio for private sessions.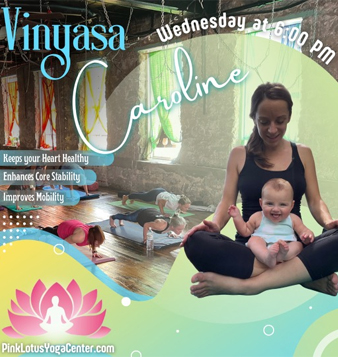 Caroline W.


Caroline finds beauty and grounding in the yoga flow, in mindful movement and conscious breath. As a wife, artist and mother, she comes to her mat to be both centered and inspired. ...Her intention is to share that inspiration with you in every class.

Caroline first came to yoga to create ease in pregnancy. It quickly became an important way to care for her mind and body as she has grown her young family. In those early years she enjoyed building her home yoga practice, sneaking away to the mat during nap times, until she mustered the bravery to join community classes. In 2018 Caroline began practicing with and training under the lovely folks at Pink Lotus Yoga Center earning her RYT200 teacher certification in June 2020, and has been teaching since.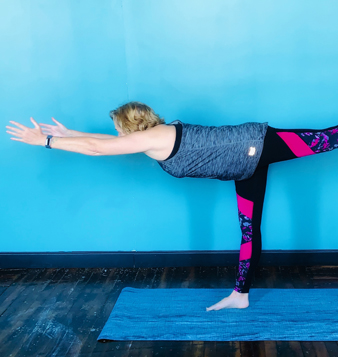 Amy - 200 RYT


A firm believer in yoga finding you when you need it most, Amy began her regular yoga practice at a time when she was looking for an avenue of self care. ...A student of everything that she undertakes, Amy began delving into all aspects of yoga and eventually found herself in the YTT program at Pink Lotus completing her YTT-200 in 2018. She is a busy mother of 4 and has noticed improved balance in her life as she strives to implement and continues to study the 8 limbs of yoga.

Amy teaches Back to Basics and can often be found subbing in Slow Flow, Beginners, Restorative and Yin classes. She focuses on helping students realize that yoga is not only a wonderful way to take care of your body physically but also an avenue to bring balance into your life.
Ashlan RYT200

Ashlan holds close the belief that as practitioners of yoga, we are always students. Her energetic teaching style encourages students to breathe into ...their inner power and shine. She hopes to create a safe space in which students feel supported and challenged in both the asana practice and the spiritual journey that is the practice of yoga. As an owner of a yoga studio, Ashlan was challenged to deepen her practice and widen her ability to teach to all levels and many different class types. "No two yogis are alike" guides her teaching to help each student find their truest practice and engage with their personal edge. Ashlan received her 200 RYT at Blue Soul Yoga in Madison WI in 2018 and as of 2022 has over 630 teaching hours. She continues her education through a personal practice, trainings, reading, and attending workshops.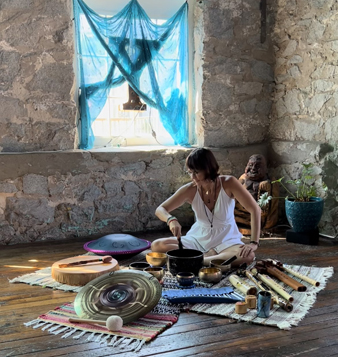 Courtney RYT200

Courtney began practicing Yoga in 2002. She felt an instant connection to the practice and immersed herself in several modalities, studying Kundalini, ...Vinyasa, Ashtanga, Restorative, Yin, Acro, and Hoop Yoga. She received her RYT-200 certification in 2017 and has taught at gyms, yoga studios, and festivals throughout Arizona, Virginia, Kentucky, North Carolina & South Carolina. In addition to private and group classes, Courtney leads monthly workshops, clinics, guided meditation circles, and sound baths. Courtney enjoys sharing her passion for meditation and sound healing, weaving mindfulness practices into her yoga classes with singing bowls, Rav Vast drums, Native American flutes, chimes, solfeggio tuning forks, and a gong to encourage awakening into the generous present moment. Courtney is also a Reiki Master, a Sound Healer, a Social Media Manager, and a Life Coach; further, she hosts small, intimate seasonal healing retreats.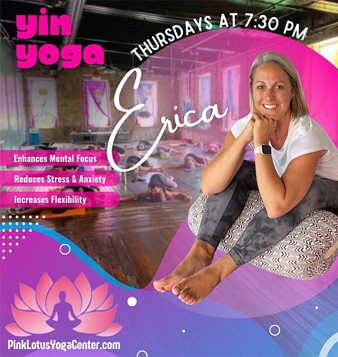 Erica RYT 200

Erica came to a regular practice of yoga after 17 years as a group fitness instructor and devoted runner. In 2016, she enrolled in a pre-natal yoga workshop ...at Pink Lotus which led to her participation in a weekly slow flow class for the remainder of her pregnancy. After the birth of her son, she returned to her yoga mat with a strong focus on restorative and yin classes. Erica completed her 200-hour teacher training at Holy Cow Yoga Center in 2022 and is continuing her training in their 500-hour advanced studies program. Her main interest lies in the benefits and practice of yoga for the modern-day mother. She is grateful to have the opportunity to teach classes at Pink Lotus.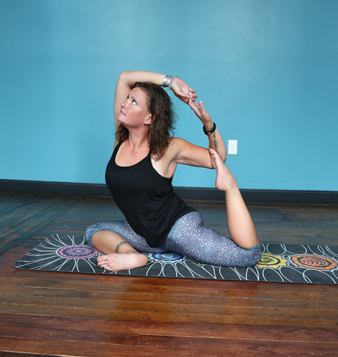 Sierra E-RYT200 RYT500 YACEP

Sierra began practicing yoga on and off in the early 00s. Recovering from knee surgery in 2011, Sierra stepped back onto her mat, looking for an easy (ha!) workout ...once she received the all-clear from her doctor, and hasn't left it since. Yoga quickly became a refuge and a place to breathe, and it started permeating her life off the mat, too. It was then that Sierra realized she wanted to share her love of yoga with others. Sierra completed her 300-hour Advanced Yoga Training with Gerald Burmeister of Shala Ananda in 2021, after completing her 200-hour Vinyasa teacher training certification in 2013. Always a student, Sierra continues to deepen her knowledge of yoga by attending trainings and workshops relating to the eight limbs and has learned from a variety of knowledgeable yoga teachers including Kino MacGregor, Tim Feldmann, Jason Crandell, and Michael Johnson. Sierra believes that yoga is for every body and will meet you where you are. When not on her mat, Sierra enjoys spending time with her husband and dogs, cooking, and reading.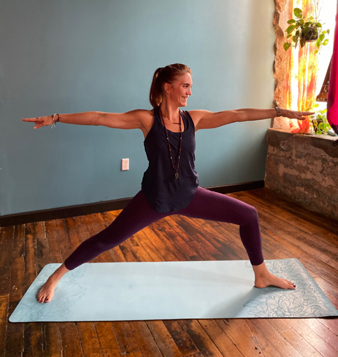 Nicole 200 RYT


Nicole completed her 200-Hour RYT here at Pink Lotus in 2018. Her day-job is as a therapist providing mental health and wellness care to individuals, couples and ...families but she believes strongly that the mind-body link has always been important to understanding true wellness. Nicole is passionate about helping people navigate life - the good and the hard stuff and supporting people in the process of living imperfectly. She has received training in trauma informed care and trauma informed yoga and believes that yoga can help individuals heal. Nicole enjoys sweaty, physical Vinyasas, great yoga beats and linking movement to breath. At the same time she knows the power of stillness, intention setting and personal awareness. For Nicole, yoga is a constant practice, one she believes is always helping us to stretch and grow into the best version of ourselves.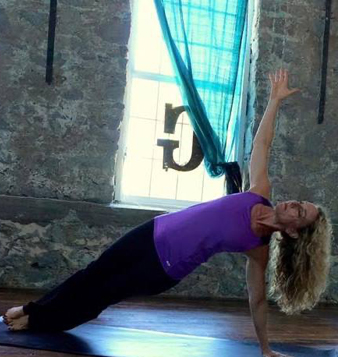 Marguerite 230 RYT


Margie discovered yoga while recovering from double hip replacement surgery. Yoga became an invaluable tool in helping her relieve pain and stress while regaining ...strength,flexibility and balance. Margie completed her 200 hour Yoga Alliance teacher training with Pink Lotus School of Yoga. A recent transplant from Savannah Georgia and previous points North, Margie is also an artist concentrating in Sculpture and Pottery and Certified Advanced level Usui Reiki Practitioner.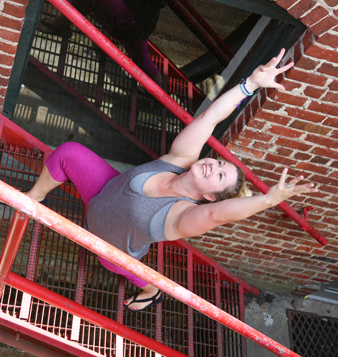 Caroline 200 RYT/ Restorative Yoga
Caroline Brazell is a SC native and has lived in Lexington for most of her life. She's a former high school and middle school teacher who studied French, secondary education, ...and interior design in college. She now works in the insurance world teaching grown-ups in lieu of kids and serves as a process consultant. Caroline is a full-time wife and mom to two young kids, ages 3 and 8, which keeps her busy! Her journey to yoga began out of necessity after her neurologist recommended she start yoga, specifically to help manage stress, after she was diagnosed with epilepsy, and the physical aspect of yoga was a natural fit since she had a background in cheerleading and dance. She received her RYT-200 through Pink Lotus Yoga School in June 2017, and she's pursuing additional training in Trauma Yoga - to serve those dealing with anxiety, depression, addiction, and post-traumatic stress – and Yin Yoga. Currently, you'll find Caroline teaching Little Kids Yoga, Big Kids Yoga, and subbing in various classes at Pink Lotus.
McKella 200 RYT


I have been practicing yoga since 2015 but I just recently began teaching in February 2021. I finished my 200 HR yoga teacher training at Soul Yoga in Greenville, SC. ...The experience was life changing and completely changed how I saw Yoga. Yoga is healing, breath, community, and so much more to me. Teaching is my way of serving my community and providing a safe space for everyone to be themselves and connect with others.