The Best Teachers
Photo credit to Carl Kerridge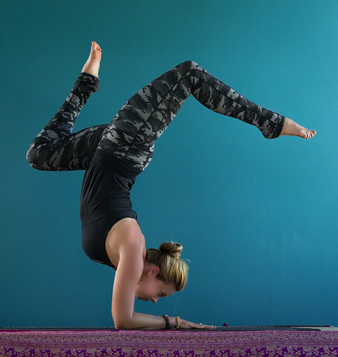 Nicole - owner, lead teacher, 500YT, 200ERYT, YAECP


Nicole thought she was going to try a new workout method since the gym was not her favorite place to be, but to her surprise, yoga was so much more. ...Through her years of dance experience and day-to-day living, she realized she had touched on yoga many years prior without knowing it. When she moved and left everything behind including her yoga community, she yearned to go deeper. There wasn't a local studio at the time, so books, videos and being pregnant became her teachers, and her baby helped change the ways she approached nutrition, the mind and breath. After having her son, she hired a trainer to whip her back into shape. The weight was coming off, but she was physically and mentally drained and soon became diagnosed with Grave's disease. Her rigorous workouts had to be stopped, which led her back to yoga. She found a place to heal -- her mind stopped racing and so did her thyroid. After time on the mat, the tests came back negative for Grave's disease to which Nicole credits yoga and God. Yoga quickly became one of her passions and as her practice deepened, she was inspired to bring yoga to Lexington, SC. She continued her education by becoming a 200-hour Yoga Alliance certified teacher and shortly after, she opened the doors to Pink Lotus Yoga Center. She believes wholeheartedly in the theory of teaching to learn and recently completed her 500-hour yoga teacher training under Dawn Yager of Shanti Yoga. She also keeps things fresh through attending various workshops, and by bringing special guests to her studio such as Dawn Yager, Where Is My Guru's Jessica Durivage, Go W/ The Flow and more. Nicole believes in bringing a wide variety of yogic principles to Pink Lotus and sharing all of the spiritual, physical and mental benefits of yoga with Lexington. She thrives in providing a fun, welcoming atmosphere for new and seasoned yogis and yoginis of all levels and from all walks of life.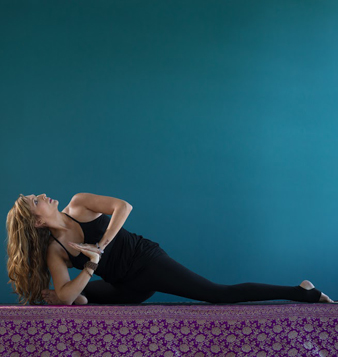 Channing E-RYT 200/
Prenatal Yoga



Teaching permeates Channing's life. Teaching middle school locally for the past 6 years, she became a Registered Yoga Teacher in 2013 and made yoga a full-time focus in 2014. ...A South Carolina girl, Channing grew up in the state, briefly leaving to attend Middle Tennessee State University where yoga first entered her life. Never considered flexible nor strong, she was amazed at how quickly one can progress through the postures, and relished the non-competitive spirit of yoga. Channing's passion for yoga became renewed during pregnancy, when breathing techniques and meditation became daily practices. Channing received her 200-hour certification in Vinyasa Flow from Gotta Yoga out of Charlotte, NC. She is currently registered with Yoga Alliance and enrolled in the 500-hour yoga teacher training through Holy Cow in Charleston, SC. Channing has received special training in Prenatal Yoga, Gentle Yoga, Yin Yoga, Backbending and Ayurveda. When not teaching or practicing yoga, Channing loves to read, paint, and spend time with her husband Tim, daughter Hadley and son Atticus.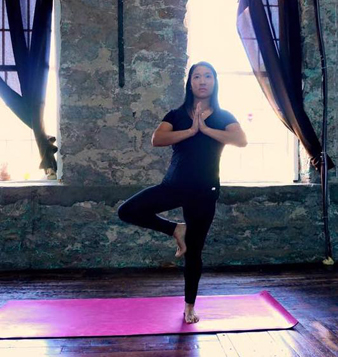 Rebecca 200 RYT/ Kid's Yoga/ Apprentice Program Manager/ Lead Assistant
Rebecca is a transplant from Alabama, currently living in Lexington. Practicing yoga off and on since 2005, she decided to deepen her practice in the summer of 2015. ...She completed yoga teaching training with Pink Lotus Yoga Center in June 2016. Rebecca has a special skill for assistant, and currently trains and manages the apprentice team. When she is not at PLYC, she enjoys spending time with her family, reading books, and volunteering.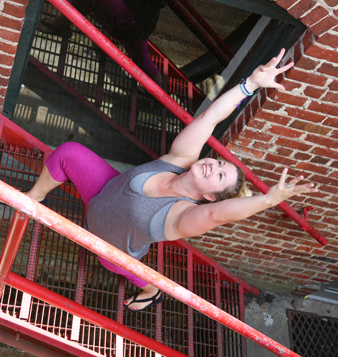 Caroline 200 RYT/ Little Lotus Manager/ Restorative Yoga
Caroline Brazell is a SC native and has lived in Lexington for most of her life. She's a former high school and middle school teacher who studied French, secondary education, ...and interior design in college. She now works in the insurance world teaching grown-ups in lieu of kids and serves as a process consultant. Caroline is a full-time wife and mom to two young kids, ages 3 and 8, which keeps her busy! Her journey to yoga began out of necessity after her neurologist recommended she start yoga, specifically to help manage stress, after she was diagnosed with epilepsy, and the physical aspect of yoga was a natural fit since she had a background in cheerleading and dance. She received her RYT-200 through Pink Lotus Yoga School in June 2017, and she's pursuing additional training in Trauma Yoga - to serve those dealing with anxiety, depression, addiction, and post-traumatic stress – and Yin Yoga. Currently, you'll find Caroline teaching Little Kids Yoga, Big Kids Yoga, and subbing in various classes at Pink Lotus.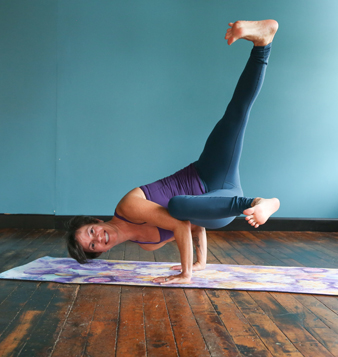 Kelly 200 E-RYT /
Baptiste Yoga


Kelly began teaching yoga in 1998 while studying massage therapy in Anchorage, Alaska. She has several YogaFit Certifications and 200 yoga teacher training with ...Gotta Yoga through Pink Lotus Yoga Center. She is also a certified Group Fitness instructor. Kelly and her daughter, Cassiel, trained with Baron Baptiste to become certified Baptiste Power Vinyasa instructors. ​Kelly is a fully certified ​Baptise instructor. Kelly has found mindful movement to be a powerful vehicle for grounding. She brings this to mind in every class she teaches. It is her intention to share that with her classes.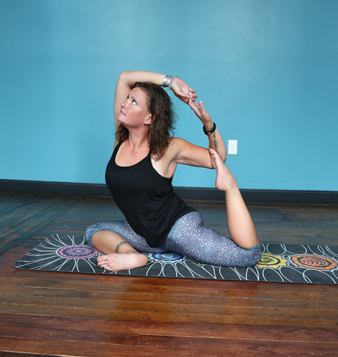 Sierra 200 E-RYT/ YTT School Manager


Sierra began practicing yoga on and off approximately ten years ago. Recovering from knee surgery in 2011, Sierra stepped back onto her mat, looking for an easy (ha!) ...workout once she received the all-clear from her doctor, and hasn't left it since. Yoga quickly became a refuge and a place to breathe, and it started permeating her life off of the mat, too. It was then that Sierra realized she wanted to share her love of yoga with others. She completed her 200-hour Vinyasa teacher training certification with Gotta Yoga in June 2013. Always a student, Sierra continues to deepen her knowledge of yoga by attending of trainings and workshops relating to the eight limbs, and has learned from a variety of knowledgeable yoga teachers including Kino MacGregor, Carmen Aguilar, Tim Feldmann, and Michael Johnson. Sierra believes that yoga is for every body and will meet you where you are. When not on her mat, Sierra enjoys spending time with her husband and dogs, cooking, and reading.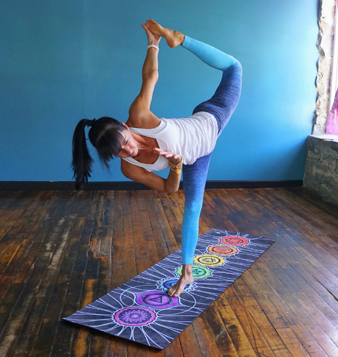 Kimi 200 RYT


Kimi took her first yoga class in 2005 while in graduate school in California and quickly discovered that from 8-9 PM on Tuesdays and Thursdays, her mind would enjoy ...the only escape from stress it could find for the next four years. She brought her love of yoga back to South Carolina upon graduation and felt that she truly found her yoga home when she stepped in the doors at Pink Lotus. Kimi had always been a runner, but started participating in triathlons in 2010 and found that yoga was an invaluable element of her cross-training regimen. Alas, her tenure as a triathlete only lasted a few years, but she maintains that yoga is an essential cross-training component for simply life itself, both physically and mentally. Furthermore, her day job as a dentist predisposes her to a myriad of neck, shoulder, and back ailments, but she knows that her regular yoga practice is what keeps her pain-free. Kimi finished her 200-hour yoga teacher training in May 2013. Her initial intention when signing up for the training was simply to learn more about yoga and to enhance her own practice, but soon realized that she loved teaching and sharing her love of yoga with others. She blended her love of yoga and athletics by completing Yoga for Athletes training in February 2014 at Enlighten Yoga in Charlotte, NC. While PLYC is most dear to Kimi's heart, she loves to travel and sleuths out a yoga studio or two in each town she visits to connect with yogis from all around, broaden her yoga horizons, and gain inspiration.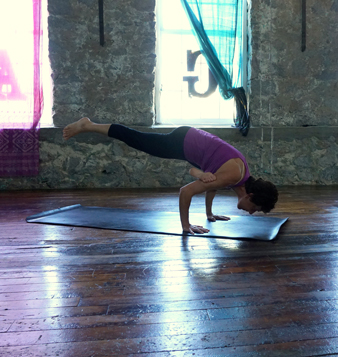 Denis Ann 200 RYT


Denis Ann has found Swarupa, which means, "loving what you do; sitting in your own essence," in her yoga practice and wanted to bring that love and joy to others. ...Denis Ann sees teaching yoga as an act of love, caring and giving back. She considers it a privilege to share her knowledge of yoga and the many healthy benefits that yoga produces in the body and mind. It is her intention that people journey through their own personal yogic path and find the joy of yoga on and off the mat. Denis Ann received her 200-hour yoga teacher training from Sakhi Yoga in Columbia, SC in 2013. She continues to deepen her study with her personal practice, workshops and reading a vast collection of books on yoga. She has been teaching yoga for 7 years and currently teaches at Pink Lotus Yoga Center since its inception in August 2011. Denis Ann honors the glory of all the yogis and yoginis who have share their love of yoga at Pink Lotus Yoga Center.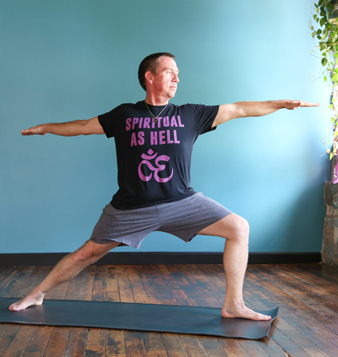 John 200 RYT/ Swing Yoga/ Leads Beginners
John and his wife Jane are both from Rock Hill, SC, where they started dating at age fifteen. They have three children, all grown, and all five are graduates of ...the University of South Carolina. John completed his 230-hour YTT in 2015 and swing training in 2017, both at Pink Lotus. He continues as a student, having begun his journey to his 500-hour certification with Holy Cow Yoga Center in Charleston. John is a Pisces, and this shines through in his giving, caring personality.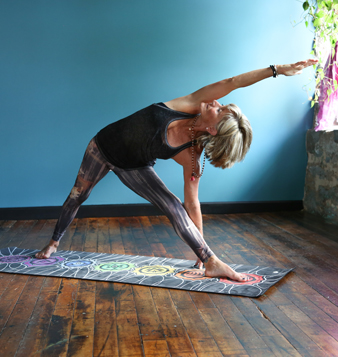 Alison E-RYT 200, YT 500, YACEP
Alison's yoga journey started in Maine in 1991 when she was looking for a way to get away from running and the gym. She was craving something that would quiet her mind while ...strengthening her body. Alison found what she was looking for when she was introduced to Kripalu yoga. She eventually made many trips to the Kripalu ashram in Lenox Massachusetts. When she moved to South Carolina in 2007, Alison discovered Vinyasa yoga. Feeling the urge to deepen her practice and knowledge of alignment, while delving into the ancient teachings of yoga, she participated in a 100 hour Anusara immersion.

Alison found her way into Pink Lotus when she moved to Lexington in 2013. With the encouragement of Nicole, Channing, and Kelly, and the support of the Pink Lotus kula, she completed her 200 hour Vinyasa Yoga Teacher Training in 2016.

Alison believes yoga is the art of becoming the best version of yourself. It frees you to love and be who you are. Alison hopes to bring the joy of yoga to others.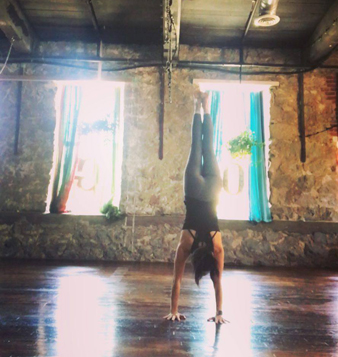 Lesley 200 RYT/ Swing Yoga
Lesley dove into her yoga journey soon after giving birth to her first child. She came onto the mat trying to find herself in her new roles of wife and mom. ...She quickly found that practicing on the mat not only helped improve her strength and flexibility, it also helped her mental state and sense of self. Over the course of a year, a sporty yoga practice turned into a steady home and studio practice. This lead her to go through yoga teacher training at Pink Lotus. Teaching was always something that came natural to Lesley. As a middle school English teacher, she found it easy to apply the things being taught during training directly to the students she taught. She believes that yoga should be more accessible and fun for kids of all ages. She looks forward to growing more as a yoga teacher as she continues her own yoga journey.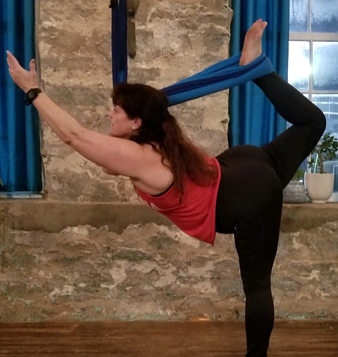 Rachel 200 RYT/ Swing Yoga

After studying martial arts for 10 years and having multiple knee issues, Rachel realized she needed to find a better way to exercise. Looking toward yoga, she found ...her yoga home at Pink Lotus. After a couple of years focusing on her own practice, Rachel took her love of swing yoga and paddleboard yoga to get her 200 hour ytt and swing ytt certification. Rachel continues to deepen her practice and figure out new poses that can be done in a swing or on a paddleboard.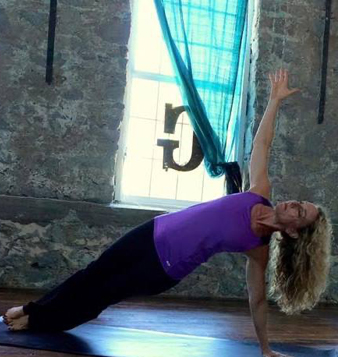 Marguerite 230 RYT
Margie discovered yoga while recovering from double hip replacement surgery. Yoga became an invaluable tool in helping her relieve pain and stress while regaining ...strength,flexibility and balance. Margie completed her 200 hour Yoga Alliance teacher training with Pink Lotus School of Yoga. A recent transplant from Savannah Georgia and previous points North, Margie is also an artist concentrating in Sculpture and Pottery and Certified Advanced level Usui Reiki Practitioner.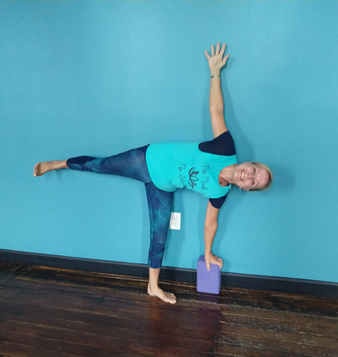 Laura 200 RYT
Laura completed her 200 hour YTT training last June at Pink Lotus. She has been assisting and subbing this past year for various classes. She also has been subbing at the ...Lourie Center in Columbia. She is presently teaching an Aqua class in her community two days a week. Laura has started to take classes at Holy Cow Studio to complete her 500 hour training. Her favorite quotes are- She believed she could, so she did and You never stop learning!!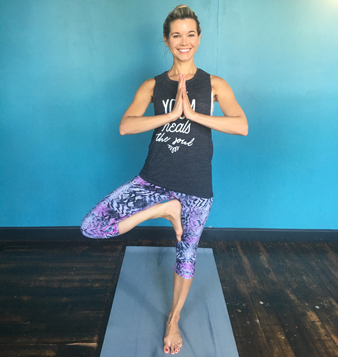 Jamie 200 RYT

Jamie attended her first class at Pink Lotus in 2016, following a lower back injury, after her doctor recommended she limit exercise only to yoga. ...Turns out, the "prescription" was exactly what she needed.

As a recovering Type A workaholic, Jamie says yoga is a gift that reminds her to breathe and live in the present moment. It helps her get out of her head and into her heart, and to be more comfortable with not always knowing what's coming next.

Equipped with a curious mind to learn more and a motivation to deepen her personal practice, Jamie completed her 200-hour teacher training at Pink Lotus School in June 2018. Though she didn't set out to become a teacher, yoga worked its magic.

These days, you can find Jamie teaching family yoga, Tuesday/ Thursday morning Vinyasa, and Tuesday/ Thursday Express Refresh. She loves to share yoga with others, especially busy parents and families, to help them find creative ways to incorporate the practice into their lives.

In addition to yoga, Jamie has a soft spot for good books, live music, building living room forts, watching documentaries, and Organizing. All. The. Things.

She and her husband Trent live in Lexington with their daughter Claire and their crazy but sweet dog-ter Bella Bean.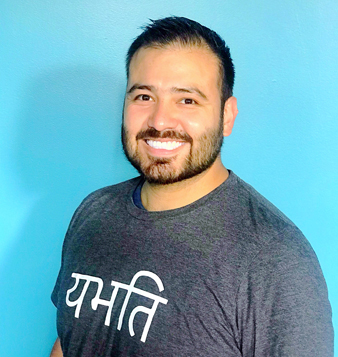 Mario 200 RYT
I'm originally from Texas. I moved to South Carolina when i joined the navy in 1999. I spent 13 years as a Navy Nuke during which I served in multiple oversea deployments and ...at the training center teaching nuclear power theory. During my 13 years in the Navy I got the opportunity to attend the citadel where I received my degree in civil and environmental engineering. After 13 years I left the navy as Naval officer.

I have been a single parent full time to my 2 sons. 19 and 17. My 19 year old is currently at the citadel and my young one is in high school.

Two years ago, after working for the nuclear civilian sector for 5 years I left nuclear to pursue a dream. I opened a motorcycle shop where I build bikes for customers.

I initially got into yoga as a way to stretch after my powerlifting training. I immediately saw the physical and mental benefits.

Mario rotates in our Tuesday/Thursday 8:30am classes and will be leading the yoga portion of a Veterans Retreat held at the Old Mill.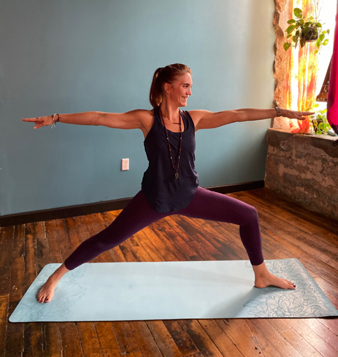 Nicole 200 RYT
Nicole completed her 200-Hour RYT here at Pink Lotus in 2018. Her day-job is as a therapist providing mental health and wellness care to individuals, couples and ...families but she believes strongly that the mind-body link has always been important to understanding true wellness. Nicole is passionate about helping people navigate life - the good and the hard stuff and supporting people in the process of living imperfectly. She has received training in trauma informed care and trauma informed yoga and believes that yoga can help individuals heal. Nicole enjoys sweaty, physical Vinyasas, great yoga beats and linking movement to breath. At the same time she knows the power of stillness, intention setting and personal awareness. For Nicole, yoga is a constant practice, one she believes is always helping us to stretch and grow into the best version of ourselves.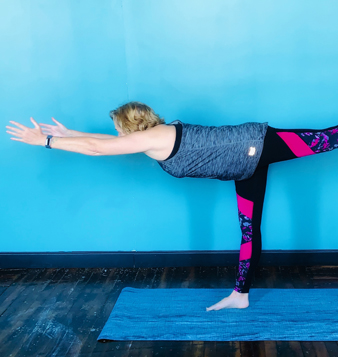 Amy - 200 RYT

A firm believer in yoga finding you when you need it most, Amy began her regular yoga practice at a time when she was looking for an avenue of self care. ...A student of everything that she undertakes, Amy began delving into all aspects of yoga and eventually found herself in the YTT program at Pink Lotus completing her YTT-200 in 2018. She is a busy mother of 4 and has noticed improved balance in her life as she strives to implement and continues to study the 8 limbs of yoga.

Amy teaches Back to Basics and can often be found subbing in Slow Flow, Beginners, Restorative and Yin classes. She focuses on helping students realize that yoga is not only a wonderful way to take care of your body physically but also an avenue to bring balance into your life.